Woody Walton
To piggy back on Tim Tetrick's post titled Calculate your customer's savings with Office 365, which highlights the capabilities of the Exoprise Cloud Readiness Assessment Tool, called by them CloudReady® Insight , I wanted to further explain the additional assistance that Exoprise provides to get you started with the tool.
The reason this is necessary is that there is a learning curve associated with the tool. In fact at first glance, I thought many partners might decline using the tool due to the investment in time it required. I was relieved when upon registering I received several communications that allowed me to learn more about the tool and even ask questions!
Of course you can view a video on their site (also viewable here below), but if you still have questions, exoprise extends other learning options to you.
Webinars

Live Demo and Q&A - Thursday, April 3rd - 1 PM Eastern
You can attend the webinars only after you register for the free trail [here].
Description:
Join us Thursday, April 3rd at 1 PM Eastern for a live demonstration and question and answer session to help you get the most out of CloudReady Insight.
While we strive to make CloudReady simple to use, we know you may have questions on how to run an assessment and use the information provided to help you or your customers evaluate a potential move to Office 365. Get your question answered in this live session!
Sample Reports
Our sample report shows data from a real analysis of a test Microsoft Exchange environment of over 1,600 mailboxes, so you can examine all the reports Insight provides for costs, user readiness, and attachment flow. You can even adjust the cost factors to see how different assumptions affect the TCO analysis.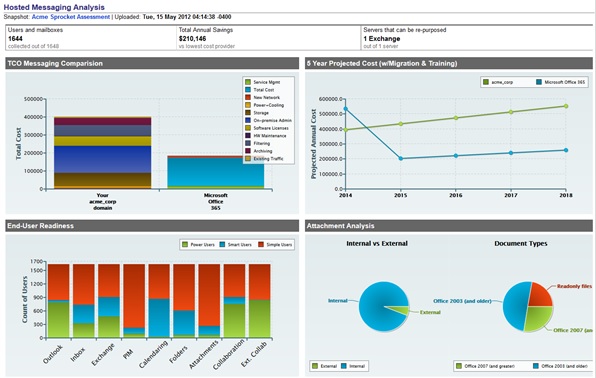 This is a great way to become familiar with how Insight quantifies the costs and benefits of moving to Office 365 before you actually run an assessment on your or your customer's Microsoft Exchange 2003 environment. If you would like have access to this sample assessment, all you have to do is email office365@exoprise.com.
Help
Want more information? No problem! You can learn more by checking out the many Insight help articles at http://help.exoprise.com.
VIDEO
-Woody