"... for every disability you have, you are blessed with more than enough abilities to overcome your challenges." ― Nick Vujicic
Indeed, four Singaporean youths who experience learning, sensory or physical disabilities are living truths to that statement. Not only are they blessed with a keen interest and excellent academic ability in the area of Information Communication Technologies, they were also blessed with the Microsoft YouthSpark Scholarship 2013. The scholarship funds up to $11,250 of course fees as well as textbook purchases for IT diploma or degree courses offered by local polytechnics or universities per student per academic year. To date, Microsoft has awarded 19 scholarships since 2009. This scholarship is just one out of the many programmes under the Microsoft YouthSpark initiative for Singapore.
Says King Yi, 20, a third-year Business Application student from Republic Polytechnic and one of four recipients this year: "It is an honour to receive the Microsoft YouthSpark Scholarship and it has given me greater confidence to go for my dreams. My parents, good friends and teachers have inspired me to live life to the fullest and I hope I can inspire others to do the same." She is also the first recipient who has dyslexia.
The three other recipients are Mr Tan Jian Hao, 19, a first-year Engineering Informatics student from Nanyang Polytechnic who is hearing impaired; Mr Eilson Tang, 17, a first-year student in Financial Business Informatics who was born with bilateral deformity in his right hand and; Mr Ang Chin Hao, 19, a second-year Engineering Informatics student from Nanyang Polytechnic, who was born with macular dystrophy, a rare genetic eye disorder that causes vision loss.
Mr Abhimanyau Pal, Executive Director of the Society for the Physically Disabled(SPD), the organisation that manages the Infocomm Accessibility Centre (IAC), said, "SPD adopts a multi-prong approach in helping persons with disabilities become self-reliant and independent. Through the IAC, we hope to equip people with disabilities with the skills and necessary tools to help them assimilate into mainstream workforce. At the same time, we hope to create platforms like these for knowledge and experience sharing to provide support for employers as well."
The scholarships were presented by Ms Jessica Tan, Managing Director, Microsoft Singapore during the 'Towards An Inclusive Workforce 2013' forum held at the NTUC Business Centre, jointly organised by IAC and SG Enable.
"… every talent is unique and has the potential to contribute to society in one form or another,"
Ms Jessica Tan, Managing Director, Microsoft Singapore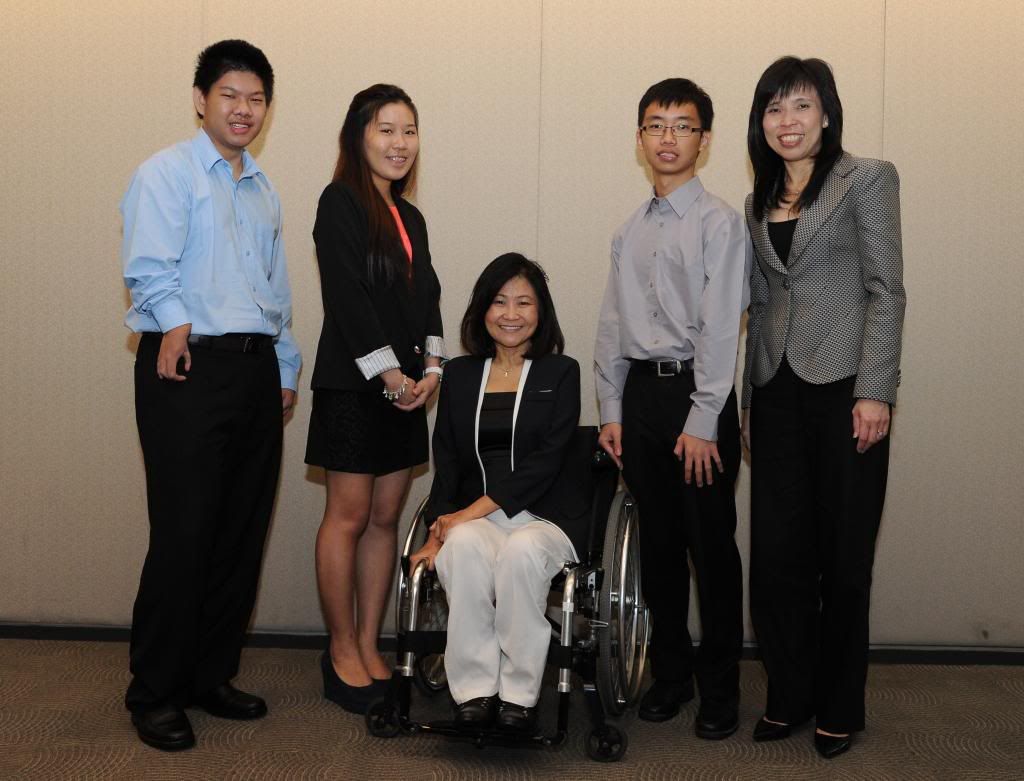 Ms Jessica Tan, MD, Microsoft Singapore (far right) and Ms Chia Yong Yong, President, Society for the Physically Disabled (centre) with Microsoft YouthSpark Scholarship 2013 recipients (from left) Mr Eilson Tang, Ms Foong King Yi and Mr Tan Jian Hao