Finally !!! After six months since the official Windows Vista launch date, we're starting to see the PC based HDTV DVR field start to have some competition. Timing could not be better because Intel recently slashed the Core 2 Quad Q6600 processor pricing and before long, it will become a standard offering. I like to leap processor generations so my aging single proc home MCE 2005/Vista Ultimate machine is going to get a nice face lift over the next 6-8 months.
For those of you that have been following the Windows Vista OCUR happenings, you know that there are some high end offerings that have been offered for several months now. You're going to need to be a rock star to afford those. I guess if you are building a multi million dollar house and home theatre, what's ten or twenty grand on a kewl media center pc and disk system?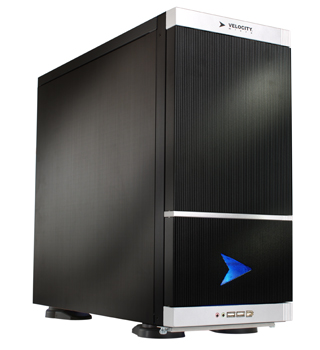 Velocity Micro
For us mere mortals, Velocity Micro has some nice offerings. They've been selling them for a couple of months now. Their Media Center line offers some home entertainment friendly models or a couple of standard mini tower models. I like the looks and configuration options for the CineMagix™ S85 Home Entertainment PC.
I mean, Velocity Micro has it going on. You can choose from several different power supplies, cooling systems, case colors and windows, etc. Check out all of the processor choices and notice they have the faster big brother, the Intel Core 2 Quad Q6700.
Velocity Micro offers a huge array, pardon the pun, of storage choices. RAID 0, 1 and 5 configurations are all offered and although they are charging a bit of a premium over the DIY market, the premium isn't too bad.
One thing that isn't offered by Velocity Micro or any of the other OEM's below is an x64 certified configuration. I'm investigating that internally to understand what is going on. My next machine OS is going to be x64, period. I don't want to worry about any memory limitations in the OS, BIOS or hardware.
Hewlett Packard
Last week HP started selling the HP Pavilion Media Center m8100y. Like the Velocity Micro above, the m8100y offers the Q6600 Quad processor as a configuration choice. HP also offers several memory configurations, three video card choices, up to a terabyte of storage and of course the ATI Digital CableCard tuner.
Unfortunately, the m8100y currently is only offered with a single digital cable tuner. I'm hoping that's an oversight on the ordering website. Considering they just started selling the machine, there's plenty of time for that to change. The EPP pricing looks pretty good right now, but I'm in no hurry to buy. I'm in no hurry because I bought the TiVo Series 3 to handle my HD DVR duties until this market has more offerings and lower prices.
Dell
Then of course, there's our buddies at Dell. This week they silently added a high definition SKU to the online ordering site. To see the new XPS 410 packaging, go into the Home Desktop area and select the XPS 410. Select the Hi-Def viewing package to see the configuration choices.
Strangely, the XPS 410 isn't offered with a Quad processor. They offer the Quad with the XPS 410, just not with the HD offering (with CableCard support). Like I said, strange.
They have some beefy Core 2 Duo dual core selections, but I'm no longer looking at those. I'm guessing the XPS 410 is getting close to the end of it's model life, so I would not be surprised to see this change before Christmas.
Like the Velocity and HP above, the prices are pretty decent though I think everyone is charging WAY too much for the ATI digital cable tuner. Maybe AMD/ATI is distributing them at a high price and there is little margin... who knows.
Fortunately Dell is offering the XPS 410 with a dual tuner configuration. They snuck that in because two days ago, the XPS 410 was only offered in a single tuner configuration. I guess they got enough phone calls to warrant the addition.
Summary
The market is expanding. That's a very good thing for you and I. Before too long, the Quad will be the entry level desktop machine. Well maybe not the entry level, but it's already becoming a standard offering. The Intel price cut had a lot to do with that. Thank you Intel. Combine that with some beefy hard drives and you have a nice HDTV recording solution that will also play games, run applications, etc. Checking your email on a 58" HD screen is interesting. Don't want a PC in the den? Use the Xbox 360 to extend the Media Center experience across your home network. Enjoy.