This is the second part in my series of posts about the benefits of combining SharePoint with Office. I'm going to talk about versioning.
Versioning is one of the major benefits a document management system has over a file share. A common scenario is for people to have a document stored in a shared network drive and all work on it there. They start off with one file and everything's fine. But, after a while, someone will make significant changes or decide they've reached a point where they should save the document as a new file. So now they have version 1 and version 2 sitting next to each other in the same drive. This will often happen multiple times and different people may have their own naming conventions regarding new versions.
Pretty soon, there are several versions of the same document and it's not always clear which is the most recent one. Someone might edit the wrong version and then you have a document with a later edited date than the one which claims to be the most recent version. When next someone wants to make changes, which version do they edit? It doesn't take much to turn a shared folder into a hideous mess.
A good document management system will give control over these different versions, making sure that users edit the correct version but maintaining drafts as appropriate.
Within any SharePoint document library, you can turn on versioning. The setting options are for either major versions or major and minor versions. When versioning is turned on, each time you edit a document, SharePoint will save it as a new version. This means that all the older versions of the documents are maintained, so you can compare changes or go back to an older version if appropriate. But users who go to the document library will only see the most recent version. This means you get all the benefits of maintaining a history of previous drafts, but none of the confusion.
But what's this got to do with Office?
Within the menu of Office, under the Server heading, is the option to view version history. This will open up a list of all the previous versions of the document. You can use this to see who made changes and when, as well as opening up those previous versions to compare changes or even to revert back to an older version if the recent one has been corrupted or altered incorrectly.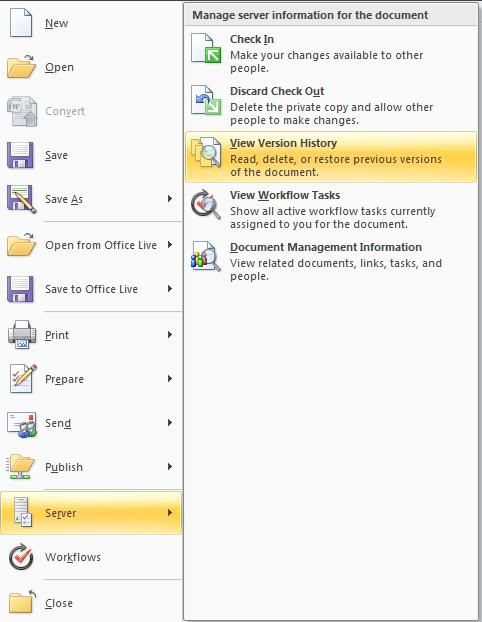 This version history is stored and maintained by SharePoint, but it's easily accessible from within the Office programs.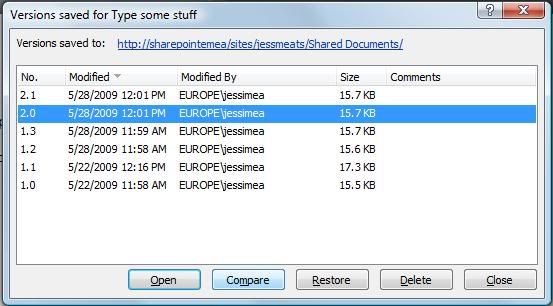 You also get the option to publish new versions and add version comment from within Office. The following image shows the dialogue box given when you want to save changes back to the server. Users are asked to choose whether they're saving a major or a minor version (assuming the document library settings are for both major and minor versions) and to add comments which are stored in the document's metadata.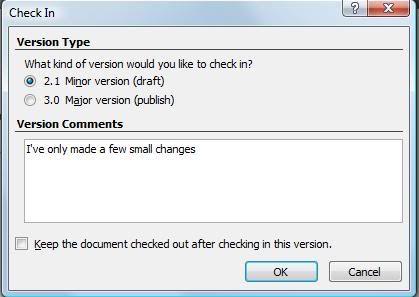 So users get access to this rich, document management functionality from inside a tool they're familiar with. Users don't actually need to open up a SharePoint page to gain access to some of the benefits the program can offer.