What is metadata? The simple definition is that it's data about data. In the case of SharePoint, it's information about files and documents stored within SharePoint. There are some bits of metadata that are included as standard, such as who created a document, who last edited it, where in SharePoint it is and so on. You can add your own metadata as appropriate. If you want to have documents labelled as whether they're confidential or not, or attach a next review date to official documentation, you can do so.
If you're running MOSS 2007 standard or enterprise, you can set policies and rules across the whole of the SharePoint deployment. One example of this I've seen was a situation where the company wanted to label some documents as being key documents. So every document in SharePoint had this piece of metadata associated with it, which was a yes/no option stating whether or not that particular document was key. Those that were key were then displayed to the users through a portal page. What's more common would be to create document types and to associate certain pieces of metadata to those types.
Metadata can also be applied at a document library level. This is true for WSS 3.0 and both levels of MOSS 2007. In a document library you've created, you can add a column by clicking on Settings -> Create Column. Then you will be given options to set about the data that should go into this column. These options are things like whether it's a line of text or a number or a choice from a list. You also get the option of setting a default value, calculating the value from other values or setting the column as required. Once you've clicked OK, you've associated a new piece of metadata to this library. All documents created here or added to the library will now have this bit of information stored about them.
But what's this got to do with Office?
Well, when you open up a file from this library in an Office 2007 program, you will see a Document Properties section in which to enter this information. This gives the user space to enter metadata, shows metadata already associated and shows which fields are required. This means users can enter information that's used by SharePoint, without ever needing to go to SharePoint.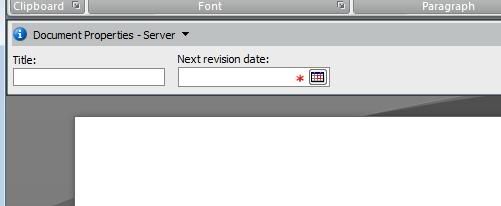 If you've set some metadata fields as required and the user tries to save the document without them, they will see an error message. This informs them what has happened, takes them to the Document Properties panel and highlights the problems. If data has been entered that's incorrect (for example, text in a number field) this will shown by a red dashed line around the field. A red asterisk will show required fields that have been missed. The error message explains this formatting to the user so they will be able to see what has gone wrong.

Users can save documents straight to SharePoint document libraries from within Office. This all means that users can be making use of the document management features of SharePoint without actually opening up a SharePoint page to put information in. This makes the process of document management incredibly smooth and efficient, while allowing users to work in an environment they're familiar with. It can cut down training costs immensely if employees are already used to Microsoft Office.