Scott Guthrie from the Corp team put out a great post about this. Here are the main bits:
Silverlight 1.0 and Expression Encoder 1.0 Released
Today we shipped the Silverlight 1.0 release for Mac and Windows. Silverlight 1.0 is focused on enabling rich media scenarios in a browser. Some of its features include:


Built-in codec support for playing VC-1 and WMV video, and MP3 and WMA audio within a browser.


Silverlight supports the ability to progressively download and play media content from any web-server.





Silverlight also optionally supports built-in media streaming. Silverlight enables you to create rich UI and animations, and blend vector graphics with HTML to create compelling content experiences.

Deployed Silverlight 1.0 Customers
This week we'll have a wide range of customers already deployed live on the Silverlight 1.0 release. A few of them include: MLB.com (Major League Baseball), Home Shopping Network, World Wrestling Entertainment, and the "Entertainment Tonight" show.
Silverlight is also now deployed on several Microsoft sites, including the Halo 3 preview site (click here for the awesome HD version), Tafiti.com, MSN Extra, and MSN Podium '08. You'll also see Silverlight used prominently in several upcoming MSN and Microsoft.com sites.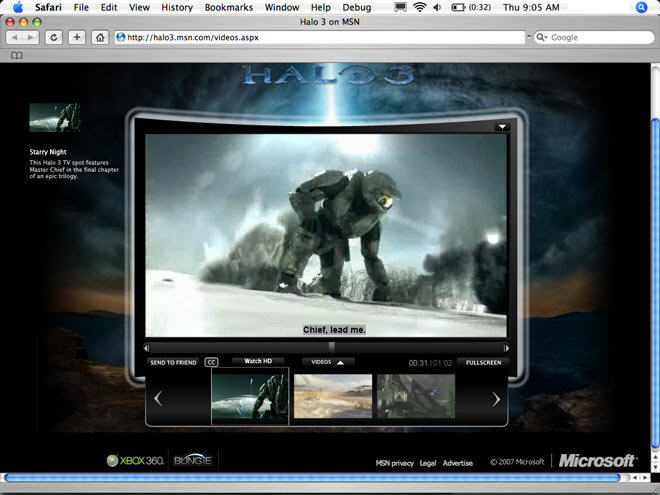 Silverlight for Linux Support
Over the last few months we've been working to enable Silverlight support on Linux, and today we are announcing a formal partnership with Novell to provide a great Silverlight implementation for Linux. Microsoft will be delivering Silverlight Media Codecs for Linux, and Novell will be building a 100% compatible Silverlight runtime implementation called "Moonlight".
Moonlight will run on all Linux distributions, and support FireFox, Konqueror, and Opera browsers. Moonlight will support both the JavaScript programming model available in Silverlight 1.0, as well as the full .NET programming model we will enable in Silverlight 1.1.