You're probably wondering what the PowerPoint slide is all about. Well let me tell you. This is the story of the TechDays Vancouver keynote.
A week from today, I have the distinct pleasure and honour (and stress!) of introducing the keynote speaker. As you heard from Damir a little while ago, that speaker is none other than Mr. Scott Hanselman. How do you introduce someone that needs no introduction? Someone that pretty much every developer knows (and if you don't, you'll want to, and will on Tuesday!), who speaks at conferences all around the world, has two podcast series, and writes books?
More importantly, how do you introduce a total, 100% developer kind of guy to you all - my infrastructure professional colleagues?
The answer – I don't know (yet!), but whatever it is, it will have to create an "Ooo! Ahh!" moment for developers and IT Pros alike! So far, the PowerPoint slide is as far as I have gotten! I won't tell you how long it took to get to that point.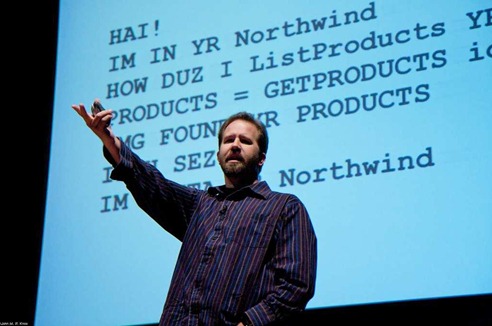 By the time you get to the Vancouver Convention Centre or by the time you watch the keynote live online (as with TechDays Toronto, the keynote will be streamed live on the TechDays homepage starting at 7:30 AM PST/Vancouver Time), I will have figured out a way to introduce Scott and his session about putting together a whole whack of tools, frameworks, and technologies together into a "Web Stack of Love" and make it make sense for both the developers and the IT pros in the room!
You'll just have to be there or tune in online to see what I come up with. In the meantime, back to PowerPoint I go.
Looking forward to see you all,