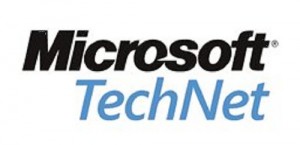 I get asked this question all the time and there are a lot of misconceptions about what exactly is included with a TechNet+ Subscription and how it can be used. So let's clear this up! I copied the following from the TechNet+ Subscription page but I'll try and go a little deeper in explaining things.
Subscribe to TechNet Plus and receive:
Full-version software for evaluation - without time limits – including Microsoft operating systems, servers, and Office System software. This is software that is " licensed for evaluation purposes only—not for use in production environments" which basically means you can use it in your home, your test lab, you learning environment etc… I took a peak in my subscription and saw Windows 2000, 2003, 2008, XP, Vista, Office 2003, 2007 and so much more.

Pre-release versions of Microsoft operating systems, servers and business applications. These are beta and/or release candidate versions that carry the same limitation as the full versions, i.e. no production use. Right now this includes Windows Server 2008 R2, Windows 7, Exchange 2010 and more. While a lot of this is available publicly TechNet+ subscribers usually get access a few days before everyone else, plus you download from private servers meaning faster speeds!

Complete access to a technical information library including knowledge base articles, resource kits, technical training, and security updates. The technical library is quite a vast set of information and it is hard to sum it up. A lot of it is also public but some of the pay for materials, like e-Learning courses are offered free. Every quarter there is a selection of these online courses that you can take for free via your subscription.

Two (2) technical support calls and a 20% discount on additional phone support incidents to help you quickly resolve mission-critical technical issues. I believe this is the most overlooked part of the subscription. It is 4PM on a Friday and something is not working. Do you A) spend hours trying to figure it out and fix it yourself in the process ruining your weekend? B) fork over $249USD to Microsoft technical support to get assistance? Now what would your answer be if instead of $249USD it was free? I once used one of these in an Exchange DR scenario to save my weekend!

Unlimited managed newsgroup support and online concierge chat to provide the extra assistance you need to be successful. This is also overlooked and a great way to get some help with those non-critical issues that we all deal with. Unlike most newsgroups these are private, managed groups that are monitored by the product teams and technical support. In fact when tech support workers are not on the phone, they are answering questions in these forums.

A free subscription to TechNet Magazine with hands-on information for the IT Professional. This is the same magazine that is available in an online format but we all know it looks odd when you take your notebook into the bathroom 🙂
So now that you know what a TechNet+ Subscription includes and what you can do with it doesn't it make it more appealing? No I am not asking you to buy one, I mean you can if you want, but remember we are including a 12 month subscription with your TechDays Learning Kit among other things. So you can pay $349USD now or pay $299CDN for your TechDays pass and get some great training as well as a boat load of other goodies!