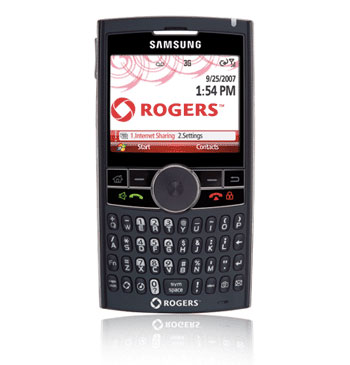 As much as I like to curse the Canadian mobile Telco's about their rates, sometimes out of date devices and rates I do have some nice things to say about Rogers today.  I was informed by Rick that they (Rogers/Fido) had released the Windows Mobile 6.1 upgrade for my recently purchased Samsung Jack (aka SGH-i616).  Windows Mobile 6.1 is well, a .1 upgrade with a few tweaks, but overall very much like version 6.0.  So what's new?  Well the full list is available here, these are my favourites.
Sliding panel home screen (as silly as this sounds the UI is so much nicer)
Threaded SMS (I got used to this on my Treo 750w)
Exchange Autodiscovery (just like in Outlook 2007)
IE Mobile zoom and page view
Support for System Centre Mobile Device Manager
Bluetooth headset automatic pairing (while this will simplify setup I leave BT off for security and don't talk/text and drive)
The rest of the improvements from WM 5.0 to WM 6.0 are still in place.  Most of the big changes came on the security front and there is a great webcast with Steve Riley available from TechEd EMEA (no registration required) and I urge you to check it out.
And if you have a Jack from Rogers or Fido you can get the update for your device at http://www.samsung.com/jackupgrader