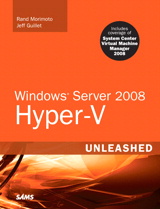 I've been waiting for a good book on Hyper-V for a number of months. I was hoping the resource kit from MS Press would be available, however it's no going to be available until February 2009. So into the void we have another member of the Unleashed series.
I am a fan of the series, there are certainly members of that family I am more a fan of than others. This one is up there with my favorites. Don't let it's size fool you, this is packed with lots of good detail on both Hyper-V and System Center Virtual Machine Manager 2008.
The best way to talk about books like this is from the experience of using them. I'm currently working on a Webcast series due from broadcast in the second week in January 2009. I'll provide more details on how you can attend those when I have that information. So the series is 20 1 hour sessions on Microsoft's Virtualization solutions all up. Hyper-V and System Center VMM 2008 are a core part of that and take up most of the first 8 sessions. When designing how these series run, a lot of it comes down to thinking about how I studied the topic and the questions I asked. Then finding validation that my thinking is a logical approach and covers the materials needed.
All of the above brings me back to the book, the subject matter covered in the book provided that sanity check, and in a lot of cases the answers to questions I had about exact capabilities of the products, so much so that I will be adding the book as a recommended companion to the series for those wanting more information.
Obviously I will also like it if you attend the webcast series, but if you are unable to and would like to get up to speed with Hyper-V quickly then I would highly recommend looking at this book. If you want to get hold of the software, there are a couple of choices:-
The Trials Software Center will provide a 60 day eval version. which can be extended up to 240 days, or you could choose a TechNet subscription which will allow you to evaluate the product for as long as you like with it's evaluation software component.
Finally, there is a TechNet Event session online called Transitioning to Windows Server 2008 Virtualization - Scenarios and Features, that supplies some more information – the Hyper-V Unleashed book will appear as a further reference very soon too.